Race day itself involved moving athletes to and from the arena, balancing excessive travel on the one hand with unnecessary hanging around on the other. The events we were in fell into two sessions, one in the morning and the other in the afternoon.
Our first race of the day saw James Howard racing in the lightweight men's 50-54 event. As one of three recent additions to the team who had yet to complete a full year, we were ambitious but realistic. Seeded 4th, James rowed a well paced race. The top seeds got off to a 1:26 and a minute in James was settled on a 1:41 in 6th place. However the cruise was good enough to put him in 4th by the 1,000m mark. Bronze was a good 22m ahead, but James accelerated to 1:39/1:40 and the gap starting closing. Unfortunately it was too large to bridge and although the last half of the race was very solid, it remained at 10m across the line. James's 4th place time of 6:41.9 was 2 seconds faster than last year and provides a good platform for the year ahead.
Next up was Shirley racing in the women's 65-69 event. She got off the start well, but the relentless pace of Merete Boldt from Denmark proved a small step too far. Both settled into 1:57s and were holding the pace through the first 500m, although Merete had worked out a 7m lead for herself off the start. However with third place on 2:07s this was going to be a two horse race for the gold. Going through the 1,000m Shirley was on 1:58s and 1:59s but Merete held firm and the gap slowly started to open. A brave second half saw Shirley take the silver in a time of 7:55.2. 5 seconds off PB pace in the relentless conditions of Boston was a great performance - it is always humbling watching more mature athletes attacking the sport with total disregard for their age.
The last race of the morning for the team saw the three lightweight girls in action: Clare and Carolyn in the lightweight women's 30-39 event and Jo in the 40-49 equivalent. Each of them had very different goals and were approaching their races in very different ways. By race day it was the worst kept secret in the event that Clare had been struggling with a back injury brought on by a subtle asymmetric difference in muscle mass on each side of her body, something we only spotted a week before the race, by which time we were in damage control mode. Carolyn has had a challenging year and we were not too sure what to expect.
Jo moves up an age category in a few weeks time and this year was always about next year.
She had a solid race, seeded 4th, and came in 4 seconds behind bronze and 6 seconds clear of silver. However with a time some 19 seconds faster than last year, she has taken a big step forward in the last 12 months and there is more to come.
Clare and Carolyn both got off well, and each settled into their respective cruise paces - Clare at a 1:50 and Carolyn at 1:55. In Clare's case the aim was simply to get her and her back down the course in one piece, replacing any attempt at the British Record. Rowing well within herself and 3 seconds/500m faster than silver, the meters ticked down. Her back was fine for the first half but (she later shared) started to complain a little thereafter. 200m out brought on just a slight lift to 1:49 to get under 7:20 and to bring home gold in a time of 7:19.9.
Carolyn's race was nicely controlled. The 1:55 cruise was cautiously chosen in aiming for a 7:39.9, and this reflected in the 1:54s in the second half of the race, moving to 1:53s in the last 300m and down to 1:51 across the line. There was however one gut-wrenching part of this race which no race report would be complete without.
During the second half of the race Carolyn had a careful eye on position and found that she had established herself in a solid bronze medal position. This was maintained to the line.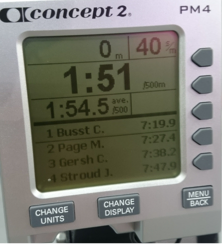 Both Clare and Carolyn arrived at the medal ceremony, but there was to be a cruel twist of fate (although wholly within the rules of the competition). It transpired that one of the lower seeded women outside the top 8 (and racing on a separate race computer system) had pulled a time 1.2 seconds faster than Carolyn. She never even saw her coming. Nothing to be achieved by dwelling on what could have been, but watching Carolyn take that first step to the podium... and then discreetly stepping back... was the most painful part of race day. Probably the most painful part of the last 12 months in fact.
A solid morning's competition, if not eventful, and an encouraging base for the year ahead. With all our lightweights significantly underweight (despite eating freely), there is plenty of potential to be tapped.
Click here for the afternoon race report