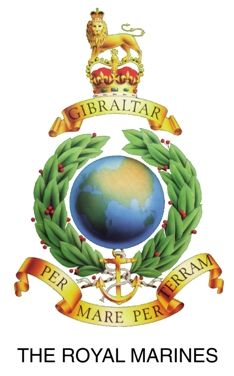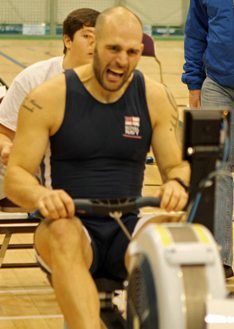 It was at this point some 12 years after lying on the gym floor after an ergo test that Ollie found himself borrowing an erg from a close friend for some fitness training during a summer leave period. The date was 12 August 2010.

"Borrowing it was a spur of the moment sort of thing, and I got addicted after a few weeks and after having found the Concept2 website and forum."

Ollie followed the Concept2 interactive programme for 6 months having taught himself some proper technique from studying videos online.

"My only comparisons were 2,000m times from the British Indoor Rowing Championships in previous years, and I originally set out to pull 6:20 at BIRC 2010. This was a 3 month challenge that I set myself, although I did not expect it to go much beyond that."

During Ollie's first 6 months in the sport he won the Royal Navy/Royal Marines Challenge league and topped the Men's Heavyweight 20-29 Challenge Series leader board. Given the relatively short period of time in the sport, it was starting to look as if he might have potential. He was disappointed not to win the Royal Navy/Royal Marines Championship title after being pipped on the line and beaten by 0.5 seconds.

"I had never rowed a proper 2k prior to this point. It was 4 weeks before BIRC 2010 and I just remember the pain of the last 700m. I flopped off the machine (something I refuse to do now) and rolled around in pain with my feet still in the straps. The plan for the race was 6.14 but I came in a disappointing 6.17."

Ollie went on to race at BIRC 2010, but he was suffering with illness and in fact was overtraining. He came 6th in the Mens Heavyweight 30-34 category with a time of 6.23.

"BIRC 2010 is something that will haunt me forever. I should never have raced having been laid up in bed for a week ending only days before the race, and then having caught another dose of illness the night before, leaving me with half a stone of fluid loss. I had done very little training after the RN/RM Championships but thought I could battle through. Quite what I was thinking, I don't know. Why I set off trying to pull a 6.14, I don't know. The pain hit me after only 400m and to this day I don't know how I limped across the line. It was excrutating and I lay on the deck for a life time after, only to be helped outside and into an ambulance for a good hour."

This experience would have put most people off, but apparently not Ollie. He would rest (well, for a day or two) and then attempt to push on. He trained for the remainder of the year but much of it was wasted as he was ill for most of it. His times got slower and slower but his drive and determination kept him going, although ironically working against him rather than for him.

"After BIRC I had been invited onto the Royal Navy/Royal Marines team for the World Championships in the USA and I was determined to be the fastest team member having seen previous times of other squad members."

Something had to be done about his training and lack of progress.

Read more...